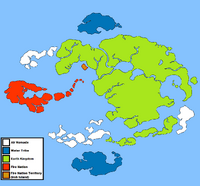 "Avatar: Tales of Grandeur" is a story owned by users Ash9876, Benknightprime, Kazeyo, and Shen Yi, also known as Ash, Ben, Kaze, and Con. It tales place after Avatar: The Last Airbender and goes into its own story without the plot of The Legend of Korra. In a world with the same technological level at the end of The Last Airbender, it follows a group of benders set after the death of the Avatar, leaving the world Avatar-less as the new one grows up. Chaos happens regardless, and benders Taiyang, Wei Meng, Zhou Ren, and Kui find there way through various different struggles as a group.
Ad blocker interference detected!
Wikia is a free-to-use site that makes money from advertising. We have a modified experience for viewers using ad blockers

Wikia is not accessible if you've made further modifications. Remove the custom ad blocker rule(s) and the page will load as expected.