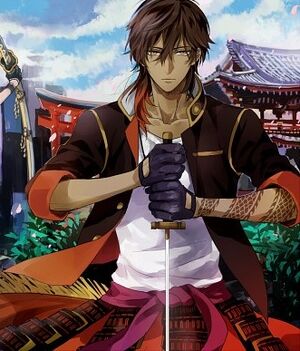 Harshul
ハーシュル
Biographical information
Alternative name(s)

Wei
Dùyā
| | |
| --- | --- |
| Nationality | Ba Sing Se, Earth Kingdom |
Physical description
Chronological and political information
Profession

Archaeologist
Professor
"A famed seer of the deserts who is said to have glimpsed his own death. So he fights each battle, explores each cavern, challenges each evil knowing that is yet not his time. Yet what such fate befalls a man who can do nothing but accept the destiny that he has proven to himself to be an inevitable truth."
— A description of Harshul
Harshul is an archaeologist of the Earth Kingdom who has gained notoriety for his discovery of various ancient treasures hidden in the vastness of the world. He has published prodigious literature describing the history of the world, and because he possesses the documents to back his claims he is accepted as a premier pioneer in the field by his fellow historians despite his relatively young age. As a result, Harshul is a respected professor at Ba Sing Sei University—one of the world's top universities. However, despite his fame much is unknown about Harshul prior to his activities with the exception that his parents were both archaeologist who had been declared dead after failing to return from an expedition. Though, on his own accounts, he claims to have lived among an indigenous nomadic tribe within the Si Wong Desert following his parents unfortunate demise; he attributes the people of this tribe as his saviors for nursing him back to health after him finding him on the verge of death from dehydration. Either through his near death experience or through birthright, Harshul has been bestowed with a sort of clairvoyance—the ability to gather information about an object, person, place, etc., through extrasensory perceptions—that he does not quite understand, yet has devoted much of his research and time to its comprehension.
Appearance
Personality
History
Abilities
Quotes
Trivia
Ad blocker interference detected!
Wikia is a free-to-use site that makes money from advertising. We have a modified experience for viewers using ad blockers

Wikia is not accessible if you've made further modifications. Remove the custom ad blocker rule(s) and the page will load as expected.