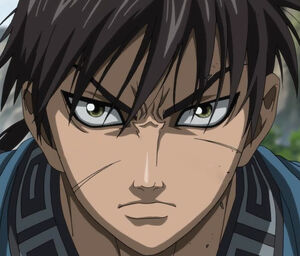 森
Sēn
Biographical information
| | |
| --- | --- |
| Alternative name(s) | Guardian of Lan Forest |
Physical description
Personal information
| | |
| --- | --- |
| Allies | Ehuang, Ganlao, all Avatars |
Chronological and political information
"For years I spent my life running from anything that reminded me of my past... Of where I came from. I despised humans. But the only way to restore the earth to balance is to bring humans and nature into harmony again. And I realized that, before I could do that, I had to first seek harmony within myself. I had to stop running and embrace the human part of me that I despised. My fears, my weaknesses… all of it. And, in the end, it made me stronger. I could feel something inside me again. I hurt, and laughed, and became a son again, experienced friendship for the first time... I became human."
— Sen
Sen is the current incarnation of the Avatar and the immediate successor of Avatar Korra. He was born in the Earth Kingdom to Ganlao, an earthbending farmer, and Laoka, a skilled waterbending healer and member of the Red Lotus who had been banished from the Southern Water Tribe following the end of her tribe's civil war. Despite being born an earthbender, Sen's mother suppressed his bending abilities as she was aware of his true identity as the Avatar and wished to keep his presence hidden from the White Lotus for as long as possible. Ultimately, Laoka was forced to flee from Lan Village to avoid being found by the White Lotus, and after she disappeared a ten-year drought struck the peninsula. Assuming Sen to be the source of the drought, the people of Lan Village attempted to sacrifice him to the heart of the forest when he was a child in order to appease the spirits. As a result, Sen bears a deep-seated distrust of all humans, with the exception of his father, with whom he has maintained a strong relationship. He lives in solitude, avoiding human contact whenever possible and very rarely emerging from the depths of the woods to interact with the outside world. Despite his strong connections to the natural environment, Sen is still unaware of his identity as the Avatar and is thus unable to access his innate bending abilities. Instead, he relies upon the powers of Ehuang, the water spirit who protects Lan Forest and who entrusted him with waterbending abilities in order to guard the forest in her place. His main companion is his tiger elk, Taruk.
History
Personality
Appearance
Abilities
Waterbending
Flowing Earth Style
流暢地 Liúchàngde Hand to hand combat.
Weapons Expert
Otherskills
Spiritual Medium
Relationships
Plot
Trivia
Quotes
Notes
Ad blocker interference detected!
Wikia is a free-to-use site that makes money from advertising. We have a modified experience for viewers using ad blockers

Wikia is not accessible if you've made further modifications. Remove the custom ad blocker rule(s) and the page will load as expected.