This article, Yezhi, is property of Waterkai.
Not pleasure, not glory, not power: freedom, only freedom.
— The first of Yezhi's sixty-four lines
Yezhi
Name
Kanji
葉知
Rōmaji
Yèzhī
Alias
Song Yiren
Characteristics
Nationality
Earth Kingdom
Age
17
Birthday
4th January
Height
5'6"
Gender
Male
Eyes
Golden
Hair
Black
Professional Status
Affiliation
Sky Movement
Occupation
Sage
Personal Status
Status
Active
Weapon(s)
Air
Image Gallery
Yezhi (葉知, Yèzhī) is an Earth Kingdom citizen who was born an airbender due to the aftereffects of Harmonic Convergence. He is the founder of the Sky Movement and a sage on whose teachings Oranism was funded. Among his followers, he is worshipped as Song Yiren (送藝人, "person who gives arts").
Appearance
Personality
History
Everything was asleep as if the universe was a mistake.
— Line thirty-three
Mufeng Peak
Forming the Movement
I am nothing.
I shall never be anything.
I cannot even wish to be anything.
Apart from this, I have within me all the dreams of the world.
— Line twenty-nine
Synopsis
Abilities
Airbending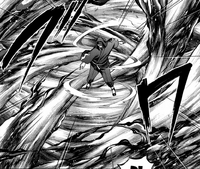 Quotes
Trivia